There are  many healthy living bloggers who daily document what they eat. I love to surf those sites at night, looking for new ideas for dinner. I could never blog consistently about my own daily diet as the amount of repetition is extremely high.
However, I often get questions, being a vegetarian, about what and how much I eat. Thus, I thought it might be interesting to show my meals for one day.
I typically start each day with a vigorous power yoga practice, followed by a four to six-mile run. This exercise starts my day off with a feeling of accomplishment, and it also gives me some freedom to eat well.
As I explained in a previous post (Wired and Tired), I recently met with a nutritionist to help with my diet. My concerns included my inability to sleep well, and my resultant constant fatigue. She quickly realized that I had two basic problems: (i) I was not getting enough protein, and (ii) I was getting too much sugar (hello Kashi cereals). With her recommendation, I have made rice protein powder a permanent addition to my breakfast, and have set aside the cold cereals and fruity (high sugar) yogurt.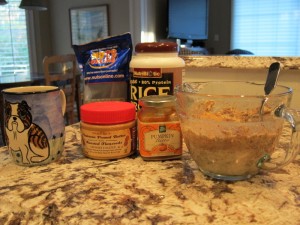 My breakfast now consists of oatmeal mixed with a tablespoon each of: rice protein powder, chia seeds, ground flaxseed, my favorite peanut butter (see
Oprah's and My Favorite Things
), and pumpkin butter. I usually drink a big glass of water with my breakfast, along with a cup of coffee in my bulldog mug. It may not be a pretty meal, but it is delicious and healthy. It is also very satisfying, which I attribute in large part to the amount of protein.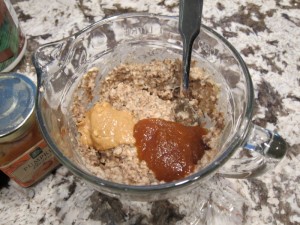 I am a firm believer in snacks. I typically carry one with me to work, to eat about an hour and a half before lunch. I make much smarter decisions for lunch when I am not starving. My choice today was a Kombucha and a small handful of almonds.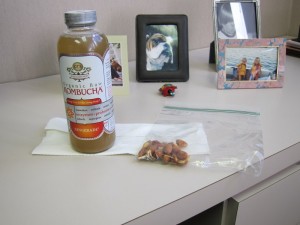 I ate lunch with a girlfriend at my favorite restaurant for lunch in Savannah, Kayak Cafe. I love their Vegetarian Salad. The salad has mixed greens, tabouli, hummus, grilled pita points, feta cheese, kalamata olives and a side of balsamic vinaigrette. It is always fresh and delicious.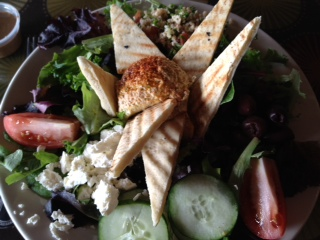 After coming home to work this afternoon (and spend time with my sweet geriatric bulldog Gracie), I had a piece of homemade banana bread for an afternoon snack, made from the Healthy Paula Deen Banana Bread recipe.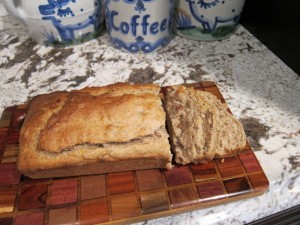 I tried a new recipe tonight for black bean and chipotle enchiladas (found at Elly Says Opa!).  The meal was delicious and something I will definitely make again. My meat-eating husband loved it too – and could easily have added some grilled chicken on the side.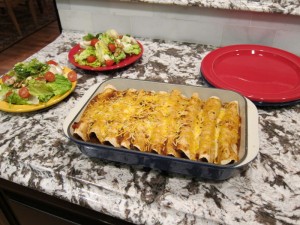 Finally, about an hour before I went to bed, I ate this: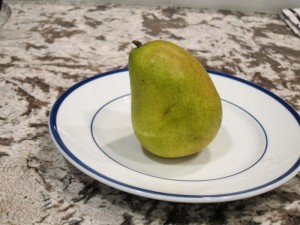 A delicious and satisfying day of eating!