It has been a bit of a rough period of time for our household with the loss of Oprah.
As an aside, I have this fear that I am going to accidentally start an internet rumor that Oprah Winfrey has died. If you are reading this and you do not know – Oprah was our fourteen year old cat.
It is amazing how much I miss her presence. She could always be counted on for a cuddle and a laugh. There have been countless times where I think I see her out of the corner of my eye in our house. I would like to think that maybe I have. My husband says he feels her in the house.
Gracie has been in mourning as well.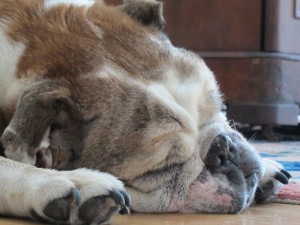 We decided that we were ready to bring some lightness and youth into the house. My  husband and I have always been intrigued with Maine Coon cats. Dear friends of ours have two and they are incredible. They are like dogs – very substantial size (20+ pounds) and they play fetch. They are also beautiful and come in all sorts of color combinations.
I did my research and found a breeder. We knew we wanted two and we especially love the orange tabby look. So, from the pictures on the breeder's website, we tentatively picked out our two – an orange/red tabby male and a black and white little girl. We then arranged a time to meet the kitties and the breeder.
On the weekend we set out to go to the breeders, the kittens were eight weeks. The breeder had told us that she keeps them until twelve weeks. During the drive, I coached my husband on how we were going to persuade the breeder to let us take the kittens that day – we are animal people, my last kittens were adopted at six weeks and lived into their teens, I will stay home from work with them if needed, etc. It was a four-hour drive, and I was determined to come home with our new babies.
At the breeder's house, she ushered us into her living room and then brought the kittens to us. She carried in three – the orange/red tabby, the little girl and then a male whose color is called blue and white, but to the average person (me), he looks gray and white.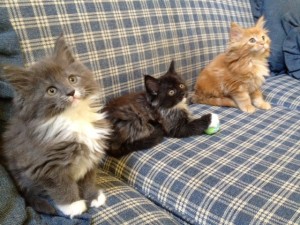 The kittens were a little overwhelmed and sat for a bit, wide-eyed. As we started to love on them and play with them, they became a little more interactive.
We also met their parents, including their twenty-three pound father. The breeder suggested that we feel the musculature on the neck of the father – it reminded me of the neck of a bulldog. These kittens will grow into big cats.
The tabby was gorgeous and regal. Both my husband and I agreed that he was to join us.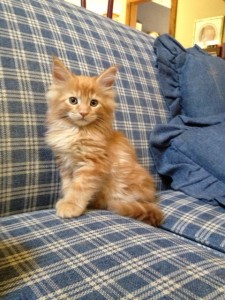 As I was playing with the little girl, I wasn't paying attention to what my husband was doing. Pretty soon, he quietly said, "I like this little guy a lot." I looked, and this little thing was sitting and looking up at my husband with adoration in his eyes.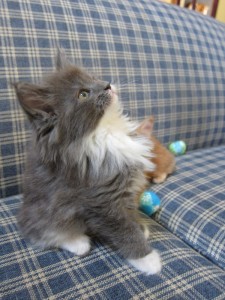 I went back to what I was doing, and pretty soon, I had a new buddy. It was as if he knew he had my husband, and now he had to convince me. And while his brother calmly hung-out, the little blue and white male became a total ham. There was some of this ….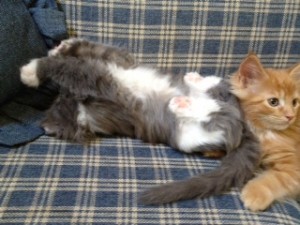 And some of that …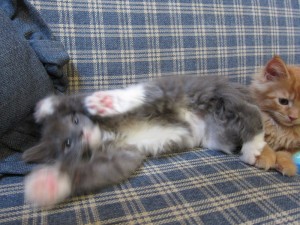 Until I finally realized that, yes, this one needed to be with us too. While I hated to leave the little girl, I did not think we could manage three cats. I also thought about my sweet Gracie with three kittens hanging off of her.
We found out that the kittens were not weaned, so even I couldn't justify tearing them from their mother to satisfy my need for immediate gratification.
While the ride home was without our new companions, it was fun nonetheless as we decided on names and talked about when we will bring them home.
I named the little orange/red tabby "Baron", mainly in honor of Snoopy's Red Baron. The name is also significant to me as in the last few years I have become a devotee of the style of yoga developed by Baron Baptiste.
It was fitting that my husband named the little gray boy, as it was he who first realized that he needed to join our family. His name is Mosby, after Confederate General Mosby, the Gray Ghost, in the Civil War.
Luckily, life is very busy right now and will continue to be so until it is time for us to make the return journey to pick up Baron and Mosby. In the meantime, we are slowly preparing for their arrival. Grandma has bought all of the kitten toys within the metropolitan area.
I am sure that I will blog about them often once they get home. In the meantime, here is one more picture to tide you over.