This past week was cold, dreary and busy. In other words, it was the perfect time to make a big pot of soup to last throughout the week.
I found this recipe for Crockpot Burrito Soup at Elly Says Opa and made a few adjustments. Here is the recipe as Elly has it:
(serves 6)
2 tsp. canola oil
1 large onion, diced
1 lb. extra lean ground beef
4 cloves garlic,minced
1 can (8 oz.) tomato sauce
5 cups beef broth
2 tablespoons chili powder
1 tablespoon cumin
2 teaspoons oregano
1/4 teaspoon cayenne pepper
2/3 cup corn
1 can black beans, drained and rinsed
1/2 cup uncooked rice
Directions:
Heat a large heavy bottomed skillet over medium heat and add oil. Cook the onion for a couple of minutes before adding the beef. Brown the beef with the onion and drain if necessary. Put back on the heat and stir in the garlic, just until fragrant.
Pour the beef mixture into the crockpot and then add the tomato sauce, beef broth, spices, corn and black beans. Cook on low for however long you are gone.
Increase temp to high and add the rice, just until cooked.
The first change I made was to make it vegetarian. I eliminated the beef and the beef broth, and used vegetable broth instead.
I also added a can of kidney beans for additional protein.
In terms of the preparation I did, it was very complicated (not).
First I diced the onion and sautéed it in the oil and garlic until the onion became clear. Then, I dumped everything (except the rice) into the crockpot, put it on low, and went to work.
I added the rice about an hour before dinner and turned up the heat to high.
Despite my low expectations for the soup since it was so easy, I was very pleasantly surprised. It was delicious.
As garnish, I used shredded cheddar cheese, low-fat sour cream and freshly sliced green onions.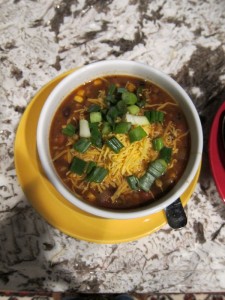 The cold and rainy weather also called for something sweet and I was on a mission to find something that was relatively healthy.  I love the peanut butter chocolate muffins that I blogged about in Monday Mountain Muffin Mania.
I had an idea to reduce the calories by substituting the Peanut Butter & Co.'s Dark Chocolate Dreams for the peanut butter in the recipe, and then eliminating the chocolate chips.
In case you have not been fortunate enough to experience it, Dark Chocolate Dreams is an all natural peanut butter mixed with dark chocolate. It contains no cholesterol, no trans fats, no hydrogenated oils, and no high-fructose corn syrup. It is also gluten-free and certified vegan, and seriously delicious. I love adding one tablespoon to my oatmeal in the morning, or eating it on an apple as an afternoon snack.
Oddly enough, Dark Chocolate Dreams is slightly less caloric than the all natural peanut butter (Trader Joe's) that I use, so I shaved calories from the recipe with the switch alone, and then more by not using the chocolate chips.
The best part of this recipe? The batter.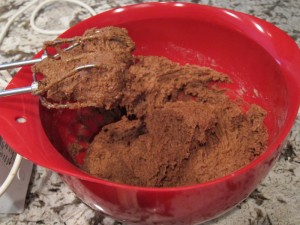 Yum.
Second best part?  The end result.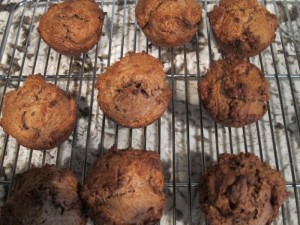 Total score on these – very, very good.
In an effort to make them more healthy, I tried the recipe a second time, with the Dark Chocolate Dreams, eliminated the sugar and used 1/2 cup of honey. The resultant muffins were not special. They weren't bad, but they didn't compare to the first batch.
I am not familiar with stevia, but am going to look into it. I have always stayed away from the artificial sweeteners, but understand that stevia is natural. Has anyone baked with it? For my next batch, I may try using stevia to reduce the amount of sugar.
The muffins freeze very well and when I need a snack or a quick breakfast, I pull one out, put it in the microwave for 30 seconds and enjoy!