When I was growing up, we would usually have some type of sandwich for Sunday night dinner. I love continuing that tradition; I guess because it reminds me of my childhood, it makes me happy.
Often, we would have sloppy joes, which I have probably not had in 25 years.
Given that it has been a bit of a rough week for us, I decided that we all needed some lightness and happiness this Sunday night. I set out to find a recipe for vegetarian sloppy joes to make for my parents, my hubby and myself for Sunday night dinner.
I have purchased several of the Skinny Bitch books and cookbooks, written by Kim Barnouin. I buy them somewhat reluctantly; I love the recipes and the topics – living a cleaner life, being a vegetarian and vegan, etc. – but the title annoys me. It is not that the language necessarily offends me, but the term Skinny Bitches does not invoke a particularly appealing concept.
Despite this, the Skinny Bitch Ultimate Everyday Cookbook had a recipe for Lentil Seitan Sloppy Joes that looked delicious.
Ingredients (serves 6):
1 1/2 cups water
1/2 cup dried lentils, rinsed
1 tablespoon safflower oil
1/3 cup minced onion
1 red bell pepper, finely chopped
1 large carrot, peeled and finely chopped
1/2 cup seitan, finely chopped
1 (6-ounce) can tomato paste
1 tablespoon Dijon mustard
1 tablespoon balsamic vinegar
2 tablespoons tamari
1/4 cup ketchup
6 whole wheat burger buns (I used Arnold's Sandwich Thins)
Directions:
1. In a medium saucepan, heat the water over high heat (I added a vegetable bouillon cube). Once boiling, add the lentils. Reduce heat, cover and simmer until tender, about 30 minutes.
2. In a separate saute pan, heat the oil over medium-high heat and saute the onions, bell pepper, and carrot until tender, about 10 minutes. Add in the seitan.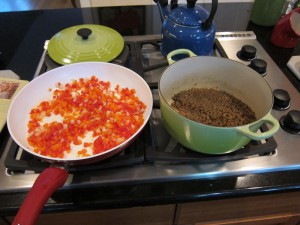 3. In a medium bowl, mix together the tomato paste, mustard, vinegar, tamari and ketchup.  Then add the mixture to the pan of vegetables. Combine thoroughly.
4. Drain the lentils, but save some of the liquid in case it is needed.
5.  Add the lentils to the pan of vegetables and simmer 5 minutes. If mixture is too dry, add some of the reserved liquid.
6. Toast the buns and serve.
Confessions: I couldn't get (on Sunday morning, after only trying one grocery store) seitan or tamari, so I didn't use those ingredients.
The end result was delicious. I was a little worried about serving this to three meat eaters, but all three loved it, as did I.
I attribute part of the success to using this incredible ketchup from Stonewall Kitchen in the recipe. I highly recommend it.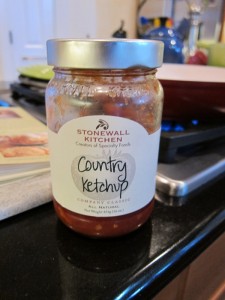 I served the sandwiches with a dill pickle, carrots, celery and radishes and a few of these sweet potato tortilla chips: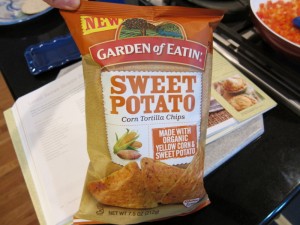 Yummy – and the meal was a wonderfully nostalgic way for us all to end the weekend.