Savannah is known for its azaleas much like Washington DC is known for its cherry blossoms.
The azaleas are blooming a little early this year due to the mild winter and were at their peak for St. Patrick's Day.
The below pictures are of the downtown square on which my office sits.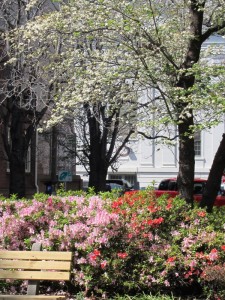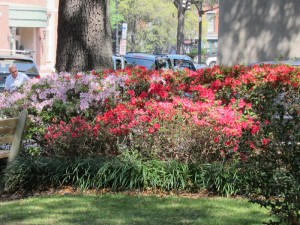 Surrounding our parking garage…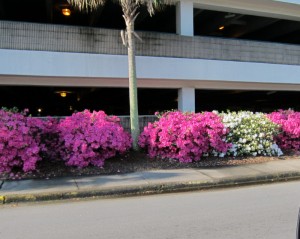 And it is not just the azaleas that are full of color.
I love the vibrant red of the bottle brush.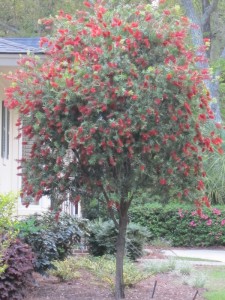 While this blooming tree is not overly spectacular on its own, the Spanish Moss living on it is unusual.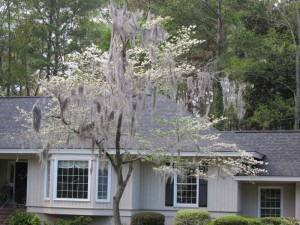 Spanish Moss is very Savannah. It is typically found on live oak trees such as the below.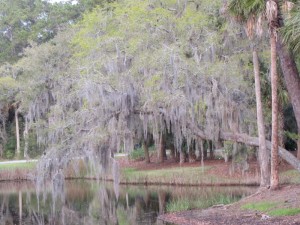 Some people like to bring the Spanish Moss inside their homes for decoration. I have always been told that you have to be very careful of it as it is full of chiggers or red bugs.
Some one told me that you can microwave the Spanish Moss to get rid of the bugs. I think I will continue to enjoy the Spanish Moss outside. The thought of chigger guts getting into my morning oatmeal is not very appealing to me.
Take a closer look at the below oak tree …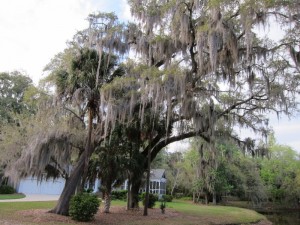 See the palm tree growing up in the middle of it?
The downside of all of this color and vibrancy? The pollen is at record highs.
Happy Friday all!!  I hope you have very colorful weekends!