On St. Patrick's Day, as a million people were making their way into Savannah for a gorgeous day of drinking and revelry, my husband and I … left town.
Am I getting old or what???
I didn't even give it a second thought.
Instead, we drove to Charleston, to go to two of my favorite stores.
Five years ago, those stores would have been Saks and Gucci. No more. My tastes have changed (plus, to be honest, Saks closed. Otherwise, I probably would have had to stop there).
Our first stop was here: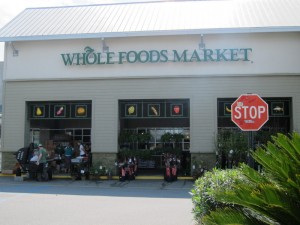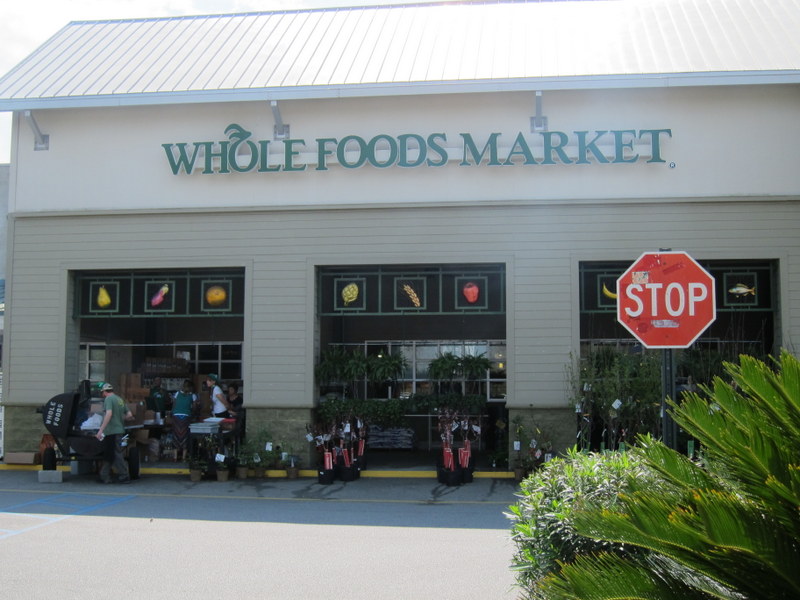 We are getting a Whole Foods in Savannah. I cannot wait!! So many good things to choose from and their prepared foods are incredible! I could walk around this store for hours.
Stop number two: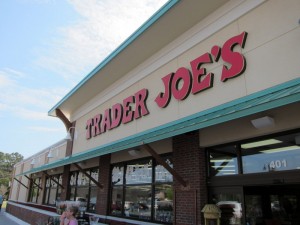 Trader Joe's is not as aesthetically overwhelming as Whole Foods, but it has some items that I love. I have blogged before about their peanut butter with flax-seed. The almond butter is just as yummy. Their pumpkin butter is also delicious.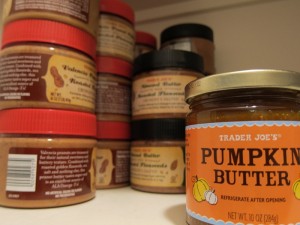 The above picture is from my pantry. Please don't tell the people from Hoarders.
I have also become a huge fan of the Trader Joe's boxed soups – especially the Organic Creamy Tomato. It is much healthier, tastier, and less caloric than the canned versions, such as Amy's and Campbell's. It still has too much salt (there is a low salt version that I have not tried), but because of the amount that I exercise and also my low blood pressure, I don't worry too much about salt (yet).
Our final stop in Charleston was on somewhat of a whim. I have lately become intrigued by Great Harvest bread. When I lived in the Philadelphia suburbs, a Great Harvest bakery opened and, frankly, what I remember most from it is the sweet bread.
There are several healthy living bloggers that I follow that are Great Harvest fans. I researched the bread and discovered that is very healthy, with no preservatives. The wheat is milled on site. The breads are made with five simple ingredients: fresh ground whole wheat, water, fresh yeast, salt and something sweet (like a local honey).
The closest Great Harvest to us is in Charleston, and it is not far from Whole Foods and Trader Joes. Like idiots, we arrived about 2:30 and starving, not having had lunch.
We were greeted by smiling faces and offers to taste several kinds of freshly baked bread. I tried spinach and red pepper, cinnamon chip, dakota, and Irish soda bread (I was HUNGRY). All were incredible, but the dakota is my favorite – a hearty wheat with pumpkin seeds, sunflower seeds and millet. We left with a couple (ok, more) loaves of bread, along with two freshly made sandwiches to eat on our way back to Savannah.
As we neared Savannah between 4 and 5, the traffic leaving was at a standstill. We made it back to our island without encountering any traffic going in our direction.
When we got home, after being smothered with bulldog kisses, we opened a bottle of wine and surveyed our bounty.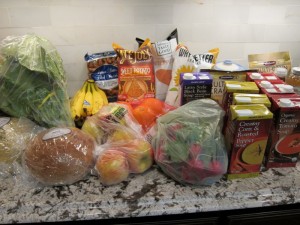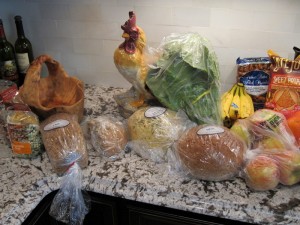 We then enjoyed a delightful dinner of fresh vegetables, incredible cheeses, fresh fruit and delicious freshly baked bread. A wonderful ending to a fun day!
Do y'all have these stores and, if so, what are your favorite items to buy?