Those of you who know me, know the changes that I have initiated in my life during the past several years. This blog was an incredible voice for me during that process. Through intense self inquiry, much of it documented on this blog, I realized that I was not happy. And I was tired of not being happy. I had become numb.
I actively sought to change that … and I did. I separated from my husband of fourteen years, retired from the law after twenty-one years, opened a new business, and moved.
Accomplishing these tasks has dominated my life.
There was another major change. For fourteen years, she was my best friend, my confidant and my constant companion. Gracie was my absolute joy. She was my strength in difficult times.
Gracie left me in April of 2014, at the age of 14.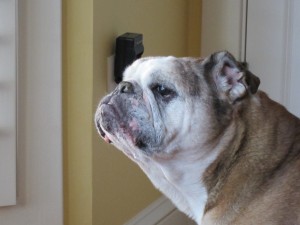 It was the change in my life that brought me to my knees. I am still in mourning and suspect I always will be.
Thankfully, I still have these two crazy Maine Coons.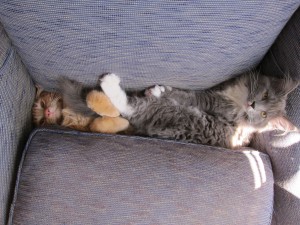 And they also miss Gracie.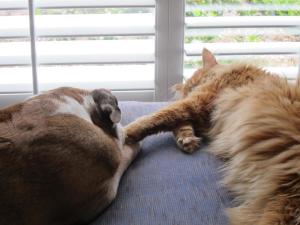 About six months ago, I brought home a rescue dog for a trial period. The young dog was able to get out of any crate that I put him in – and it was comical at first. Then my vet warned me that I was going to come home to a dead cat, as he was hunting the cats. We sent the sweet dog back to the rescuer, who kept him as her own pet (she has no cats).
I came very close to getting another English Bulldog puppy several months later. After several sleepless nights and a near panic attack, I decided against it.
It has now been over a year since the divorce. The business has been open for more than eighteen months. I have lived in my new home for a year and my sweet Gracie has been gone for that period of time.
And guess what?
I think I may have become numb again.
I have been so intensely focused on achieving particular goals – mainly with regard to the business – that I have not spent any time just "being" in my new life. My house is my dream house … but it doesn't really feel like home.
I have feared getting another dog. I am afraid to give my heart so fully again to one who will likely die before I do. Will I be able to love to the extent that I did before?
I have (unintentionally) treated this time of my life as transitory. As a time between two phases of my life.
I have decided … it's time.
Its time to live again. Its time to bring the balance back to my life.
Its time to blog again.
And its time to welcome Dillon home.