About a week and a half ago, we brought home the newest members of our family – two little Maine Coon brothers.
I named the orange/red kitten Baron after Snoopy's Red Baron. My husband named the grey cat Mosby, after the Civil War Confederate General Mosby, who was known as the Grey Ghost. (My northern blood recoiled a bit, but marriage is all about compromise, right?)
In the period of time that we have had them, we have realized how different their personalities are.
Mosby is our little manipulator. As you may remember from a prior post, we did not intend to get Mosby, but then we were wrapped around these little paws.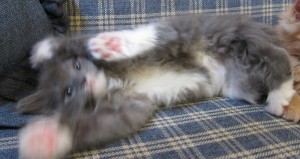 Baron is our big tough guy. He is the first one to try anything, including approaching Gracie, our English bulldog (we are still working on that relationship). He seems to have no fear.
Mosby is more inclined to sit back and assess the situation.
Baron has the brute strength; Mosby has the finesse.
Baron is at times protective of Mosby.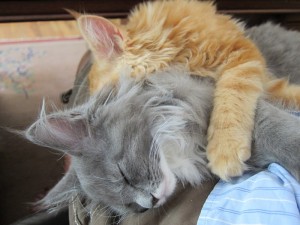 And at other times, a little invasive of Mosby's personal space …
Mosby is graceful; Baron – not so much.
Mosby can easily jump onto things. Baron can jump about six inches; he tries on higher things, but then usually brings them back down with him.
Baron is regal looking.
Poor Mosby has some bad hair days.
Our wonderful vet visited us and met the kittens for the first time last week.
He declared them to be perfect, which I knew.
But then he told me something that I didn't know …
Mosby is a girl!