I love soup (you probably know that). Tomato soup is my all-time favorite.
When my brother and I were sick when we were kids, my mom would make us Campbell's Tomato Soup. It became my comfort food.
Until about my fourth decade, I would eat Campbell's Tomato Soup at least three or four times a week. Then I became educated about what was in it. I then graduated to Amy's tomato soups and, if I could get to it, Trader Joe's tomato soup, both a bit healthier.
In Savannah, my favorite tomato soup is found at Soho Cafe; my second favorite is at Toucan. Behind that is the tomato soup at Kayak Cafe, which is vegan – made with coconut milk. Yum.
So when I saw what looked like an interesting, and not complicated, recipe for Tomato-Basil soup in this month's Cooking Light, I was excited to try it.
Here are the ingredients:
1 tablespoon extra-virgin olive oil
1 1/2 cups chopped onion
3 garlic cloves, chopped
3/4 cup chopped fresh basil
1 (28 ounce) can fire-roasted diced tomatoes, undrained
1/2 cup (4 ounces) 1/3 less fat cream cheese, cut into cubes
2 cups 1% low-fat milk
1/4 teaspoon salt
1/4 teaspoon black pepper
12 (1/2-inch thick) slices French bread
cooking spray
1 garlic clove, halved
1 ounce shredded Asiago cheese
Steps:
1. Turn broiler on high.
2. Chop the onions and basil.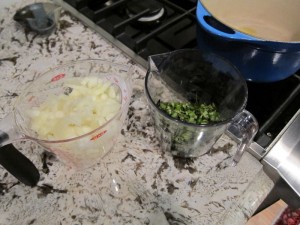 3. Heat olive oil in saucepan over medium-high heat. Add onion and saute about 3 minutes. Stir in garlic and cook for a minute more. Add tomatoes and basil and bring to a boil. Stir in cream cheese until melted.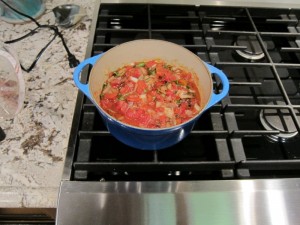 4. Either pour soup in blender or use immersion blender (which is what I used). I didn't blend it totally smooth as I like some texture in the soup.
5.  Return to heat, stir in milk, salt and pepper and cook about two more minutes on medium high.
6.  Place bread rounds on a baking sheet and lightly coat with spray. Put under broiler for one minute. Rub garlic over the toasted side of the rounds, turn over and put Asiago cheese on top. Broil rounds for another minute.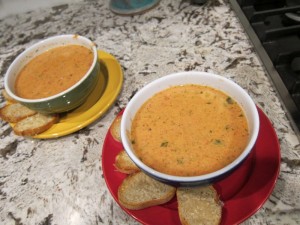 Serve and enjoy – it is delicious!