If I look back over the last eleven years, I see the consistency and presence of truly one of the most significant connections of my life.
It involves a love so intense that it is at times painful.
It involves a partnership in which the partners communicate without speaking.
It involves an incredible loyalty and devotion on both sides.
It involves my sweet Gracie and me.
Gracie is always on my mind, but even more so as her eleventh birthday (April 15th) is quickly approaching.
Eleven is old in bulldog years. In my lifetime of bulldogs, I have never been fortunate enough to have one live this long – or, frankly, even close.
When my husband and I got married, we were the animal equivalent of the Brady Bunch. He had two dogs (English Setters – Maggie and Scout) and I had two cats (Oprah and her sister Rosie). The animals combined easily – although I think the cats were a little frustrated as the dogs paid them no attention whatsoever.
Maggie and Scout were highly trained bird dogs and were unlike any dogs that I had ever owned. I think they equated me with the cats and didn't really pay much attention to me either. They were devoted to my husband.
After about a year, I decided that I needed a dog who acknowledged my presence. Not surprisingly with my history, I gravitated towards the English Bulldog.
My husband and I found a breeder, visited and made our pick of the litter. Three weeks later, we met the breeder in Athens, Georgia and left with a roly poly bundle of love.
The special relationship started right away. She wanted to be held as a puppy, and I was thrilled to accommodate her.

In the mountains or in Savannah, she went everywhere with us. At restaurants we ate outside as puppy Gracie laid in my lap. My husband said he always knew where I was in a store as he could hear people screaming when they saw Gracie.
She lapped up every bit of love I gave her. Some puppies will squirm and get anxious; Gracie never did.
In Savannah, my partners were kind enough to let me bring Gracie to work for the first several months. I didn't really have a choice. I was working long hours those days and I wasn't going to leave her home alone. Every day, she would get in the car with me and ride to work, laying across my lap. Once in my office, I put up a doggie gate in my door, and Gracie spent the day playing with toys, chewing bones, and sleeping on my lap.
I had a steady stream of people through my office during the day to visit Gracie. When we went out on the streets of Savannah for walks, traffic would stop. People had to see her, pet her and love on her.
Just before Gracie turned a year old, we discovered that she had hip dysplasia. At the time, I was devastated. It was so hard for me to not be able to explain to her what was going to happen and why. She had surgery on first one hip, followed by physical therapy, and then six weeks later surgery on the other hip. She had to be crated for several weeks after each hip, so that she would not injure herself. I worked from home to be with her and slept on the floor in front of her crate so that she knew I was there. We made it through the ordeal and were even closer –  and the hips have lasted ten more years.
Gracie has always loved everyone, but she loves no one like she loves me. When I leave the house, she positions herself to watch for me, and then whenever I get home, she does an incredible happy dance. A friend once said to me that "cats are great, but they don't do the river dance when you come home." I am greeted by a 60 pound bulldog doing the river dance every time I enter the house – whether I have been gone for minutes or days.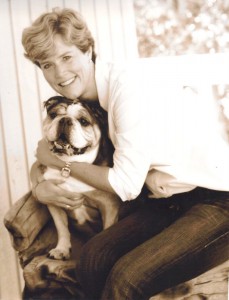 Our bond is so intuitive. We know what each other is feeling and react accordingly. I have diagnosed every illness or malady that Gracie has suffered very early; I know when something is the slightest bit wrong. At the same time, she knows when I need a little extra attention.
She is my constant companion. I work from home as much as possible so that I can be with her, especially during these senior years. When I am home with her, she lies on the chase lounge in my office with me, but by the windows, constantly watching outside for any threats.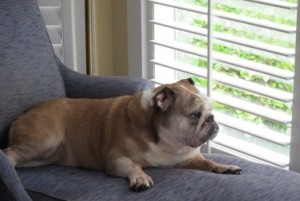 If my husband is home too, she knows that she can relax a little more and will sleep at my feet.
When someone else is in the house that she does not know, she stays between the other person and me at all times. I always tell people that she is friendly, but warn them not to make any sudden movements towards me as I do not know how she would react. Actually, I think I do.
It pains me to see her getting so old. Her body is wearing out on her. She has a torn meniscus in one of her knees and it is obviously painful for her. She cannot withstand anesthesia at this point, so we keep her on high doses of glucosamine in the hopes that the knee might repair itself, and also pain killers to make her life more comfortable.  Her eyes are cloudy with cataracts. Her breathing is especially labored after any physical or mental exertion. When I come in the door now, I try to run to her to meet her, so that she does not have to run the length of the house to get to me.
Until this past year. Gracie was never our only dog. We have always had two or three, and usually two cats. While I have loved each one so much, Gracie and I have always had the special bond. As my husband says, "there will never be another Gracie in your life." This past year, when we went through the heartbreak of losing another dog, we decided that we would let Gracie and Oprah, now fourteen, live their lives out in peace and serenity.
When I think about my Gracie leaving me, I feel a panic in my chest.
This may sound crazy, but sometimes I worry that she is ready, but won't let go as she doesn't want me to grieve.
In the many conversations that I have with her, some of them actually spoken out loud, I assure her that I will be ok.
Because she will never truly leave me.